What is the Chamber's Executive Academy?
Formerly known as Dynamic Leadership Wilson, the Chamber Executive Academy introduces today's business leaders to the dynamics that make Wilson a unique place to live and work.  During the 10 month program, participants get a first-hand account of the issues facing our community.  They form lifelong bonds with peers across Wilson's diverse industry sectors.  They gain an appreciation for the challenges other professionals face in our market, and become trusted representatives of their organizations out in the community.
By the time participants "pass the torch" to the next class, they are more firmly connected, deeply engaged, and better informed leaders who add immense value to their organizations - and to Wilson.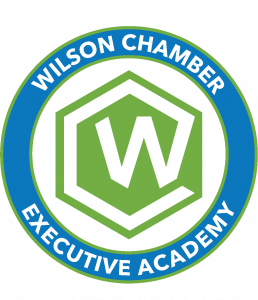 The Academy is about more than equipping leaders to succeed in Wilson; it's also about improving the community than enables our organizations to prosper.  Each Academy class takes on a community service project designed to leave a lasting, positive impact on Wilson.  Many of the projects initiated by past Academy and Dynamic Leadership classes continue to benefit our community today.
Have more questions?
Contact our President and Academy administrator, Ryan Simons, at 252-237-0165, or email rsimons@wilsonncchamber.com.