At the Wilson Chamber of Commerce, we recognize and appreciate the contributions made by our small businesses to our local economy.  In fact, a large majority of our membership is made up of small and medium sized businesses.  We're committed to seeing them prosper, and want to make sure they are able to take advantage of every opportunity to succeed.
Listed below are tools available to small businesses and entrepreneurs in Wilson.  This list is by no means exhaustive, so check here frequently for updates.  Furthermore, we understand the constraints many small businesses face, so many of the programs and services listed here are FREE.  Please call us if you need more information, or know of a resource that should be added.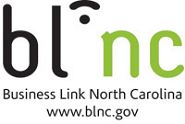 BLNC offers a central resource for issues common to all small businesses across the state, including: customized licensing information, employer and business structure forms, referrals to state occupational licensing boards, and the Office of the State Small Business Ombudsman.  Business counselors offer free, one-on-one advice by calling (800) 228-8443.