Wilson Commerce Foundation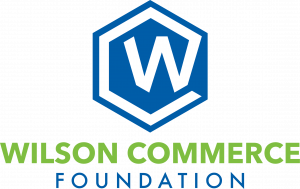 In 2019, we established the Wilson Commerce Foundation:  the 501c3 charitable arm of the Chamber with the purpose of supporting sustainable business development in Wilson through philanthropy, education, and cooperation.  Since then, we've asked Chamber members to consider a voluntary $25 gift to the Foundation when they renew their membership.  Here are a few of the ways we want to put the Wilson Commerce Foundation to work for our community:
Incubate charitable initiatives.  We'll help individuals or organizations that want to lead charitable efforts, but need administrative assistance.  If you're raising money for a cause that has a direct or indirect benefit to our business community, we might be able to help.
Provide direct relief to businesses.  In the wake of the COVID19 crisis, the Foundation awarded nearly $3,000 in grants to businesses through its My Brother's Keeper Fund.  We can do more.  When disaster strikes, we want to offer financial assistance to businesses who need it the most, with minimal red tape.
Form leaders for our community.  The Foundation works with the Chamber to administer our Executive Academy:  a 10-month community orientation for senior executives in Wilson.  Likewise, the Foundation has partnered with both the Chamber and Wilson Forward to offer the Wilson Leadership Institute:  a rigorous 18-month leadership development program for aspiring community leaders in public service.
Invest in capital needs.  The Wilson Chamber of Commerce is the most visible representation of the health and prosperity of our business community.  The Foundation will invest in facility upgrades to ensure that the Chamber has the resources it needs to project an attractive, professional, and competitive market.
Forge meaningful partnerships.  We'll work with partner agencies across the community to secure outside funding.  Count on the Foundation to work with nonprofits in Wilson to ensure those organizations can compete for resources that might have a direct or indirect benefit to our business community.
All contributions to the Foundation are voluntary, and may be tax deductible as a charitable gift.  Please consider making a secure donation here: